Episodes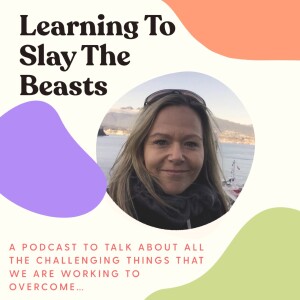 Tuesday Oct 19, 2021
Tuesday Oct 19, 2021
This week we continue to bring awareness to PANDAS/PANS. I am so thrilled to welcome Dr. Jill Crista. She is a rock star at helping families heal from mold toxicity.
Dr. Jill Crista is an author, educator, and Naturopathic Doctor. Dr. Crista has a personal experience with both PANDAS/PANS and with mold toxicity. She earned her Naturopathic Doctor Degree in 2003. For over a decade, she owned, directed, and practiced at two integrative clinics. She now focuses on research, teaching, and writing, specializing in neuroinflammatory conditions such as mold sickness, brain injury, and autoimmune encephalitis. Dr. Crista also recently released a new book, Break the Mold.
Dr. Crista explains how we get mold toxicity, what it does to us, how to treat it and the link with PANDAS/PANS. Her website can be found at: https://drcrista.com/
The mold quiz can be found at: https://drcrista.com/quiz/
#education #parenting #youngadults #anxiety  #supportingkids #braininflamed  #teachers #healthandwellness #childrensmentalhealth #youthmentalhealth #pediatrichealth #childrenshealth  #immunesystem #neurodiversity #adhd #autism #pandaspans #panspandas #autoimmuneencephalitis #pandaspansawareness #panspandasawareness #tics #ocd #depression #neuroimmune #MOLD #moldtoxicity #breakthemold #moldsickness #moldillness #naturopathicmedicine
As always, this podcast is based on experiences and should not be construed as medical or professional advice. Please speak with your own medical professional.
­­­­­­­­­­­­­­­­­­_____________________________________________
ADs:
My middle-grade fiction novel Pendulum by S.E. German is available on FriesenPress, Barnes and Noble, Amazon Worldwide (Amazon.com,  Amazon.ca) and more!
Ben struggles with his mental health following an infection. He visits countless doctors and endures endless treatments all while trying to manage middle grade trials like his family moving, his first crush and playing competitive sports. This heartwarming story will build empathy and give you a glimpse into how Ben creates hope for the future.  
Contact me for speaking engagements in schools, libraries and community events (reallifeproject@gmail.com).
Please subscribe, review & share this Podcast!
Follow me on IG: @saraladygluten , TikTok @saraladygluten and visit My Author/Podcaster Website: www.se-german.com 
Visit my Amazon Storefront for my recommendations: https://www.amazon.com/shop/saraladygluten
Sign up for the email list and receive a free Self-Care Calendar!
Blog: www.theallergybeast.wordpress.com
This post contains affiliate links.