Episodes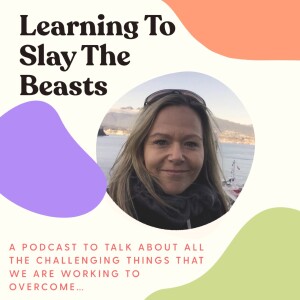 Saturday Mar 25, 2023
Saturday Mar 25, 2023
In this personal episode, I provide some recent insights into my health, including a recent discovery that I have high cholesterol and what I am doing about it.
As always, this podcast is based on experiences and should not be construed as medical or professional advice. Please speak with your own medical professional.
#cholesterol #resilience #health #wellness #fitness 
­­­­­­­­­­­­­­­­­­_____________________________________________
Contact me for speaking engagements in schools, libraries and community events (reallifeproject@gmail.com).
Please subscribe, review & share this Podcast!
KO-FI
You can support the Learning to Slay the Beasts podcast through Ko-Fi:
https://ko-fi.com/learningtoslaythebeasts
Connect with me
IG: @saraladygluten 
Visit my Amazon Storefront for recommendations:
 https://www.amazon.com/shop/saraladygluten
Sign up for the email list and receive a free Self-Care Calendar!
Blog: www.theallergybeast.wordpress.com
This post contains affiliate links.