Episodes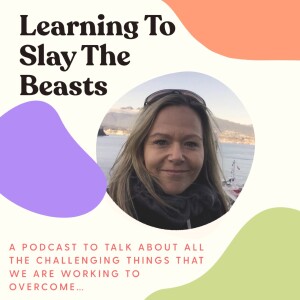 Tuesday Dec 13, 2022
Tuesday Dec 13, 2022
The Winter is a season that is full of a lot of ups and downs. We have the holidays which can feel exciting but also frantic and stressful at times. We then move into a period of Winter that can feel depressing, with Blue Monday and the Winter blahs setting in. This is why I wanted to speak with today's guest, Licensed Clinical Social Worker Miranda Barker. She is going to help us to find tools to deal with these challenging situations and hopefully come out of winter healthy and strong!
As always, this podcast is based on experiences and should not be construed as medical or professional advice. Please speak with your own medical professional.
https://elliementalhealth.com/35-coping-skills-for-anxiety-and-depression-to-try-this-winter/
https://elliementalhealth.com/how-to-help-children-cope-with-emotions/
Connect with Miranda Barker:
Out Loud TV Show: https://www.youtube.com/channel/UCG_SNOBVacCdb6uFGOJUtdg
Therapist Thrival Guide: https://anchor.fm/therapist-thrival-guide
______________________________________________________________________________
Don't forget my book:
Pendulum by S.E. German
My middle-grade fiction novel Pendulum by S.E. German is available on FriesenPress, Barnes and Noble, Amazon Worldwide (Amazon.com,  Amazon.ca) and more!
Ben struggles with his mental health following an infection. He and his mother visit countless doctors and he endures endless treatments all while trying to manage middle grade trials like his family moving, his first crush and playing competitive sports. This heartwarming story will build empathy and give you a glimpse into how Ben creates hope for his future.  
Contact me for speaking engagements in schools, libraries and community events (reallifeproject@gmail.com).
Please subscribe, review & share this Podcast!
KO-FI
You can support the Learning to Slay the Beasts podcast through Ko-Fi:
https://ko-fi.com/learningtoslaythebeasts
Connect with me
IG: @saraladygluten , TikTok @saraladygluten