Episodes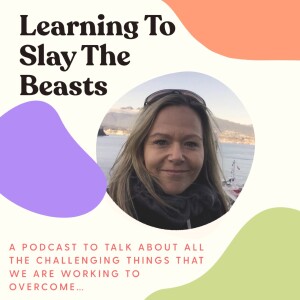 Tuesday May 31, 2022
Tuesday May 31, 2022
This week I am so excited to interview someone that I have been loving on Instagram for quite some time now. As I have been through my own journey of body acceptance, trying to find a balance between working out for the right reasons, and then eating in a healthful way, that doesn't focus on my body size, body fat percentage or how my muscles pop in photos, I stumbled across Sam.
Sam Gwaz is a Virtual Coach with a B.S. Nutrition and M.S. in Kinesiology & Sports Nutrition. She has been putting great vibes out into the world and on Instagram in particular where she shows her tough workouts, how she hits her protein goals, but also how she actually eats foods that she loves and enjoys life. This week we pick her brain about her approach since this is really where I aspire to be!
Contact Sam:
IG: @thesamplan
Tiktok: @thesamplan
#health #fitness #coach #nutrition #kinesiology #mindset #sportsnutrition #emotionalhealth #meditation #mindfulness #coaching #mindsetcoach #fitnessjourney #selfcare #selflove #training #weightlighting #fitnesscompetition #bodysize #HAES #healthateverysize #dietculture #healthylifestyle #healthandwellness #weighttraining #collagen #foodrelationship #restrictiveeating 
­­­­­­­­­­­­­­­­­­_____________________________________________
ADs:
Contact me for speaking engagements in schools, libraries and community events (reallifeproject@gmail.com).
Please subscribe, review & share this Podcast!
KO-FI
You can support the Learning to Slay the Beasts podcast through Ko-Fi:
https://ko-fi.com/learningtoslaythebeasts
Connect with me
IG: @saraladygluten , TikTok @saraladygluten and visit My Author/Podcaster Website: www.se-german.com 
Visit my Amazon Storefront for recommendations:
 https://www.amazon.com/shop/saraladygluten
Sign up for the email list and receive a free Self-Care Calendar!
Blog: www.theallergybeast.wordpress.com
This post contains affiliate links.