Episodes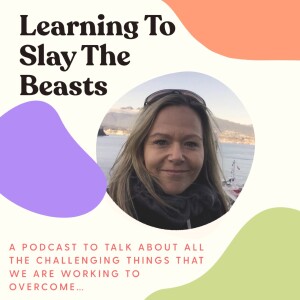 Tuesday Jan 25, 2022
Tuesday Jan 25, 2022
This week we are joined by Chronic Illness Health Coach Eryn Darling (aka The Healthful Darling). Eryn is a trained Nutritionist and Child and Youth Worker that now works to support those will chronic health conditions naturally. We talk about Eryn's personal health story, natural support methods, the role of trauma in chronic health conditions, the importance of nutrition and the investigation of root causes in supporting chronic health conditions.
Website: The Healthful Darling 
#podcaster #podcast #panspandas #pandaspans #coaching #meditation #selfcare #parenting #mentalhealth #newyear #newyear2022 #covid #stress #youthmentalhealth #2022 #autism #chronicillness #entrepreneur #autismspectrumdisorder #neurodiverse #neurodiversity #youth #teens #mindset #inspiration #inclusive #meditation #alternativetherapy #trauma #nutrition #nutritionist #mindfulness #neurodiverseparents #ocd #anxiety #tics #depression #lymedisease
As always, this podcast is based on experiences and should not be construed as medical or professional advice. Please speak with your own medical professional.
­­­­­­­­­­­­­­­­­­_____________________________________________
ADs:
Bark Box - Super Chewer
Treat your dog to monthly treats, designed for super chewer's, just like my dog Charlie!
EVERY BOX COMES WITH:
2 TOUGH TOYS (always fluff-free)

2 FULL-SIZE BAGS OF TREATS (customizable for allergy and diet preferences)

2 MEATY CHEWS (always all-natural)
​Sign-up for a Super Chewer Box via www.superchewer.com/reallife 
This link gives them a 'Free Extra Month' of Super Chewer (valued at $45) and is valid on mutli-length plans. Enjoy! 
Pendulum by S.E. German
My middle-grade fiction novel Pendulum by S.E. German is available on FriesenPress, Barnes and Noble, Amazon Worldwide (Amazon.com,  Amazon.ca) and more!
Ben struggles with his mental health following an infection. He visits countless doctors and endures endless treatments all while trying to manage middle grade trials like his family moving, his first crush and playing competitive sports. This heartwarming story will build empathy and give you a glimpse into how Ben creates hope for the future.  
Contact me for speaking engagements in schools, libraries and community events (reallifeproject@gmail.com).
Please subscribe, review & share this Podcast!
KO-FI
You can support the Learning to Slay the Beasts podcast through Ko-Fi:
https://ko-fi.com/learningtoslaythebeasts
Connect with me
IG: @saraladygluten , TikTok @saraladygluten and visit My Author/Podcaster Website: www.se-german.com 
Visit my Amazon Storefront for Holiday Recommendations:
https://www.amazon.com/shop/saraladygluten
Sign up for the email list and receive a free Self-Care Calendar!
Blog: www.theallergybeast.wordpress.com
This post contains affiliate links.